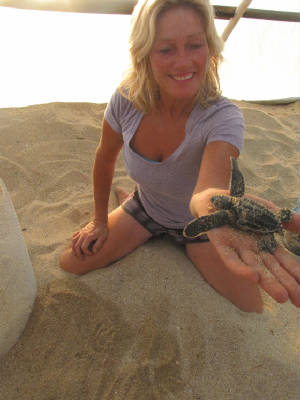 Valma with Leatherback hatchling
Volunteer for Sea Turtles, our Oceans & our Planet!
Volunteer for the 2013-14 Nesting Season
Volunteering for Sea Turtles in Todos Santos is the Eco Adventure of a lifetime!! Help population recovery, participate in marinelife research, and experience Mexican culture! Our Volunteers are trained in collecting data on nesting sea turtles, nest relocation, incubation greenhouse operation, nest excavation, and hatchling releases. Early morning patrols are run on ATV's, evenings are spent releasing hatchlings, and days can be spent supervising the incubation area, helping with beach clean-ups, designing publicity, or simply relaxing. There are lots of beautiful beaches to explore in the area, as well as a culture-rich downtown full of shopping, dining, and art galleries.
Three species of endangered Sea Turtles nest on the beaches of Todos Santos: Olive Ridley, the critically endangered Leatherback, and occasionally the Black sea turtle. Volunteers are trained by Biologists and experienced Technicians in the relocation of sea turtle nests to a special Incubation Greenhouse designed to Increase the hatchling yeild. Volunteers also supervise the incubation areas, are trained in nest escavation, and supervise the hatchling releases.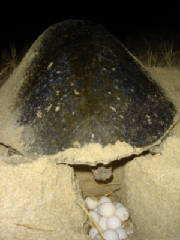 We work with each of our Volunteers on an individual basis to design a program that fits your interests and needs. Volunteers can work various shifts depending on the month of participation. Night Patrols to relocate nests are run October - March. Incubation Supervision, Nest Escavation and Hatchling Releases take place November 15- April. There are many on-going Volunteer activities that take place throughout the year and we are open to you receive your ideas. You may work as little as four hours each day, or up to 10 hours if you desire. You can also take days off to relax and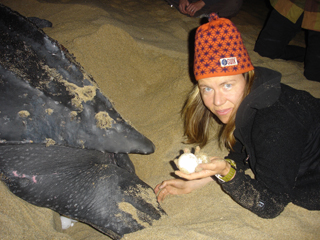 explore Todos Santos on your own.
Register and reserve your Eco-Casita in two easy steps. The Eco-Casitas are conveniently located between the beach and centro. ATV's are used for night patrols and for transport to the Incubation Greenhouse for daytime Monitoring. Volunteers staying in the casitas can be woken up and taken to the nesting site if a turtle is on the beach during your night off.
Experience is not a requirement, all applicants are accepted provided there is space. We are currently accepting Volunteer registrations for the upcoming season.
Weeks with no space available will be listed here.
| | | |
| --- | --- | --- |
| Month | Nest Relocation | Hatchling Releases |
| Oct | Olive Ridley, Black, Leatherback | - |
| Nov | Olive Ridley, Black, Leatherback | Olive Ridley, Black |
| Dec | Olive Ridley, Black, Leatherback | Olive Ridley, Black, Leatherback |
| Jan | Olive Ridley, Black, Leatherback | Olive Ridley, Black, Leatherback |
| Feb | Olive Ridley, Leatherback | Olive Ridley, Black, Leatherback |
| Mar | Leatherback | Olive Ridley, Leatherback |
| Apr | - | Olive Ridley, Leatherback |
| July 2013: | Junior Lifeguard and Sea Turtle Camp Instructors | Work with local Mexican kids as they develop their swimming skills, learn about conservation, and camp out to rescue sea turtle nests |
If you will be in Todos Santos for the nesting season at another location, conservation opportunities are also available. Contact us to plan your family Camp-out (October-December), organize a school field trip or create a group conservation activity. You can also help supervise the incubation greenhouse (January-March), and participate hatchling releases in Las Playitas. The Volunteer form is not required to participate in Hatchling Releases or single night Camp-outs.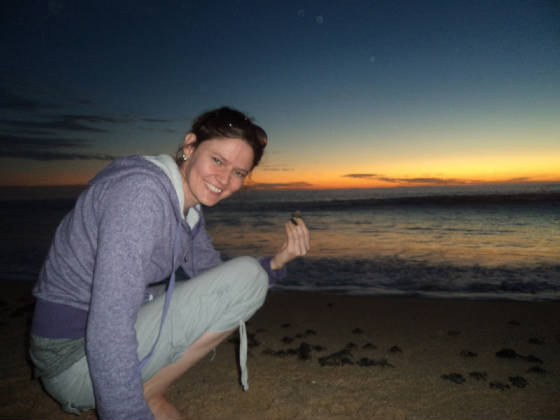 Julie with Olive Ridley hatchling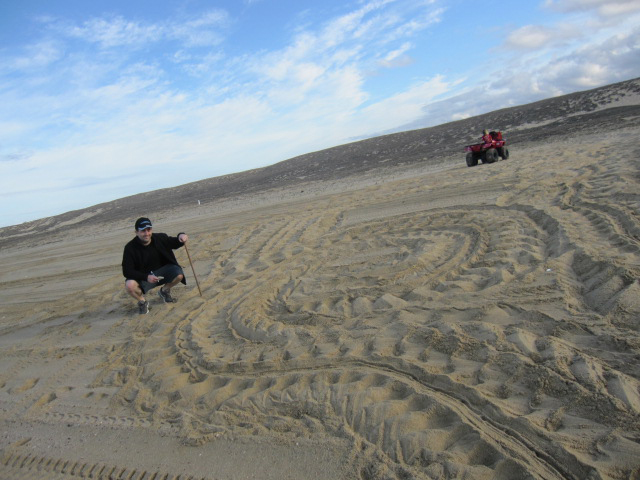 Josh with Leatherback track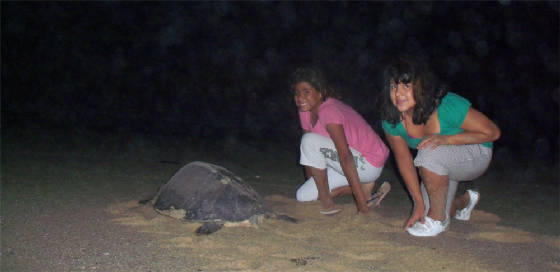 Junior Lifeguards 2011 Participants/ Participantes de Salvavidas Junior 2011