Environmental Conservation with a Special Interest in Sea Turtles
Todos Santos, Las Playitas y Agua Blanca, B.C.S., Mexico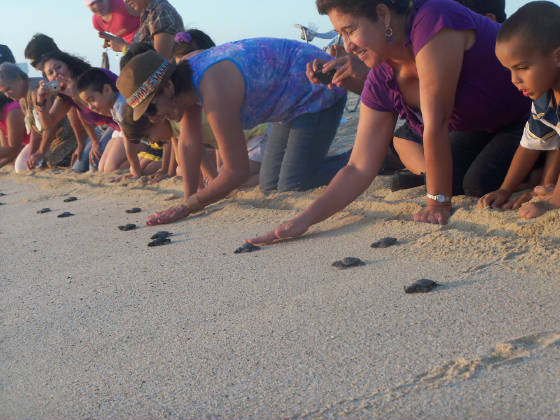 Thank you for your donation!
Our mission is to protect, conserve and replenish the fragile marine eco-systems of Baja California Sur, Mexico. We place a special emphasis on Endangered Sea Turtle population recovery, habitat protection and environmental education in Todos Santos, Las Playitas and Agua Blanca. With the support of our dedicated, hard working volunteers, and the generous donations of our sponsors there is hope to restore eco-systems and better balance our Pacific Ocean!
.
..
.
Leatherback Protection and Incubation Enhancement
.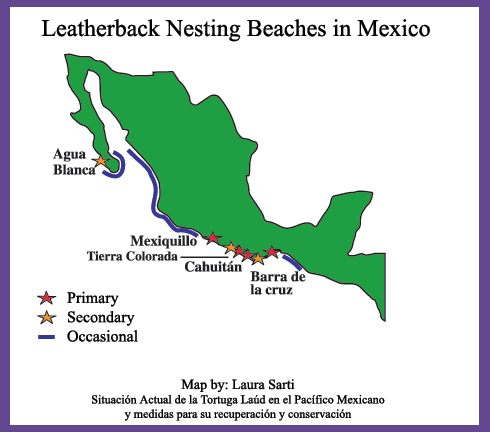 Agua Blanca has been identified as an important nesting site of the Pacific Leatherback by National Sea Turtle Coordinator, Laura Sarti. Plus, according to the IUCN (Internacional Union for Conservation of Nature), the recovery of the depleted Pacific Leatherback population requires "enhancing hatching success," and "full protection of all nesting beaches."
Our project and special Incubation Greenhouse are doing just that! We patrol this important nesting site every night throughout the nesting season (October - April). All Leatherback nests are moved into a specially designed Incubation Greenhouse where hatching success is greatly improved by elevating the sand temperatures. Without the greenhouse, Leatherback nests in this region fail to incubate, or produce very few hatchlings.
Our volunteers run the nightly patrols relocating nests, monitor the nursery, organize beach clean-ups, and educate school-aged children, fishermen and residents on environmental conservation, sea turtle biology, the management of the greenhouse, and water safety.
One small Miralce at a Time.................
Leatherback hatchlings incubated in the Invernadero (greenhouse)
In Memory of Darren Sage:
Tortugueros Las Playitas would like to recognize Darren Sage and Family as Sponsors of the 2011 Nesting Season. Muchas gracias for your support.


Special Thanks to Our Sponsors:
2012-13 Nesting Season:
Steve DeShong/Market Blooms
Community Built Association
(Tom Arie Donch & Cathy Forkas)
Norcross Wildlife Foundation
Martha Kongsggard-Goldman
Tony and Linda Kinninger
Richard Spotts
Lori Oliver
Baja.com
2011-12 Nesting Season:
Tony & Linda Kinninger
The Todos Santos Inn
La Esquina
Amerimex Realty
Josh & Grace Evans Wedding Guests
Richard Spotts
Ray and Judy Brown
Richard Charles Fenner
Justine Block Habib
Amber Geiger
Julie Suess
SEMARNAT/CONANP
La Sirena Eco-Adventures
Familia Cota-Rodriguez
2010-11 Nesting Season:
Leiter Family Foundation
James H. Woods Foundation
Jennifer Woods Tierney
Lori Oliver
SEMARNAT/CONANP