Ways you can Help
Endangered Species Conservation
Greenhouse Plastic Application
Scientific Research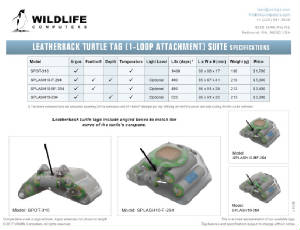 Satellite Trackers
.Sustainers Club
Join our Sustainers Club and help support the following on-going programs:
Junior Lifeguards & Junior Marine Biologists
Nest Rescue & Greenhouse Incubation
Habitat Protection & Conservation
Scientific Research
.
.
Make a Donation
/
.
.
Sponsor our Project.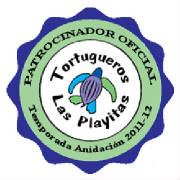 Become a official project sponsor with a donation of $250 or more. Your support will significantly help endangered species habitat protection, population recovery projects, and youth education programs. Your clients and potential clients will know you support environmental conservation in Todos Santos with this seal.
Thank you for considering a Sponsorship!
¡Gracias por su apoyo!
Black Sea Turtle Hatchlings
Adopt a Nest
Nest Species Available
-Leatherback
-Black Turtle
-Olive Ridley
What you get with an Adoption:
-Your name on Turtle Nest
-Adoption Certificate
-Photo of your hatchlings
-Data from Nest
-Lots of Good Karma!
Adoption Contributions:
-Leatherback: Critically Endan. $50
-Black Turtle: Endangered $50
-Olive Ridley: Vulnerable $40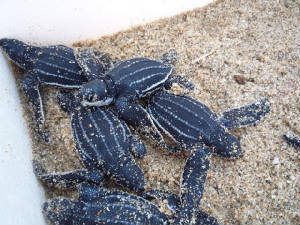 Adopt a Hatchling
Participate in our Adopt a Hatchling program and help replenish sea turtle populations. You'll recieve a Sea Turtle Birth Certificate, photo of your hatchling, and project data information. Proceeds go directly to population recovery projects.
Purchase Tomas and the Turtles
Help support our conservation efforts through the purchase of Tomas and the Turtles, an Environmentally friendly ebook.
Volunteer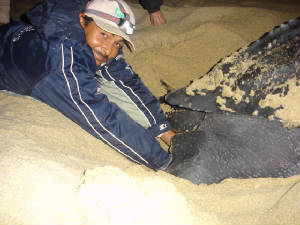 Spread the Word
Olive Ridleys begin nesting in July, Blacks in August, and Leatherbacks nest October - April. Please help these endangered species by following the following guidelines:
Reduce outdoor lighting in coastal homes
Reuse & Recycle your Plactics
Don't build bonfires on the beach
Participate in Beach Clean-ups
Never shine light on nesting turtles
Support the local economy to eliminate the need for poaching (shop Pinos not Costco)
Never drive on the beach
Volunteer for conservation groups
Make sure your construction debris is disposed of properly, not thrown in the arroyo.
Never eat or buy turtle meat or eggs
Promote sustainable fishing by consuming line-caught fish (nets kill turtles)
Spread the word

Please report any turtle nests or tracks in the Todos Santos area to tortugueroslasplayitas@gmail.com or 145.0353