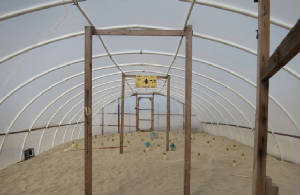 Incubation Greenhouse Before Hurricane Odile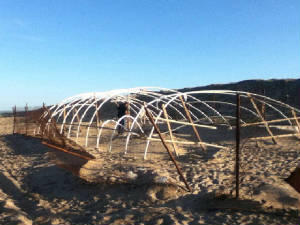 Incubation Greenhouse After Hurricane Odile
The Incubation Greenhouse took a beating when Category 3 Hurricane Odile pounded Todos Santos in September 2014. The 4x4 posts snapped, the hoops twisted and the fence was bent over. Please help us rebuild the greenhouse so the nests inside can incubate successfully. The temperatures will drop in November so time is of the essence!
Thank you for considering a donation!
Tortugueros Las Playitas A.C. is a Mexican "Asociacion Civil" or non-profit organization working under a permit issued by SEMARNAT Direccion General de Vida Silvestre. All of our programs are possible thanks to our generous Sponsors and hard working Volunteers.
Please contact us if you have any of the following items to donate.
4x4 ATV for running night patrols
Grenhouse quality plastic for Incubation Greenhouse
4x4 Passenger vehicle for Student transport (ie:Dodge Durango or Suburban)
Chainlink fencing for incubation corral
Gasoline, Oil, WD-40
Wood and paint for signs
Rain gear, goggles, and headlamps with red filter
Hobo data-loggers for recording temperatures
ATV tires, batteries, and trailer
Two ipads for programming data loggers, recording logger read outs, writing reports, maintaining website, international networking, community outreach, and internal communication
A projector for school presentations. (one that connects to a laptop, ie: cannon)
A GoPro camera with waterproof housing for documentation, education, and promotion.