Program Reports, Greenhouse Temperature, and Tagging/Recapture reports provided below:
Greenhouse Temperature Three Season Comparison
Greenhouse Temperature Report 2012-13
Greenhouse Temperature Report 2011-12
Greenhouse Temperature Report 2010-11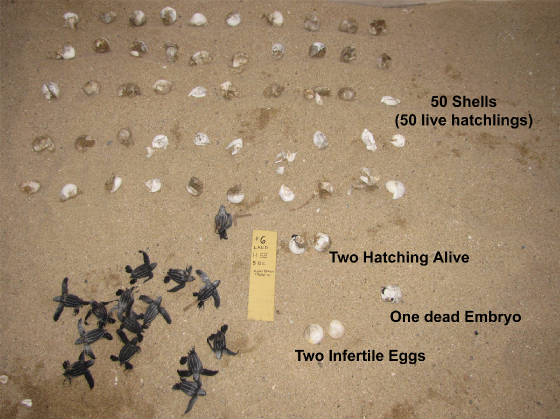 Leatherback nest escavation
Tortugueros Las Playitas A.C. is a non-profit organization, all programs are possible through generous donations and dedicated volunteers.
.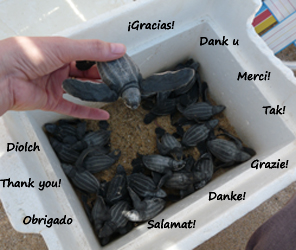 Thank You to Our 2012-13 Sponsors:
Linda McIngvale
Steve DeShong/Market Blooms
Norcross Wildlife Foundation
Community Built Association
Tom Arie Donch & Cathy Forkas
Martha Kongsggard-Goldman
Tony and Linda Kinninger
Richard Spotts
Lori Oliver
Baja.com
..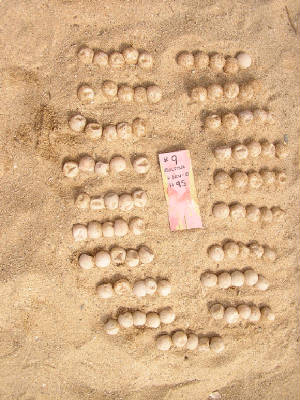 Occasionally, sea turtle nests contain 100% Infertile eggs
Special Thanks to our 2011-12 Sponsors:
Tony & Linda Kininger
The Todos Santos Inn
La Esquina
Amerimex Realty
Josh & Grace Evans
Ray & Judy Brown
Richard Spotts
Richard Charles Fenner
Justine Block
Amber Geiger
Julie Suess
CONANP/SEMARNAT
La Sirena Eco Adventures
Familia Cota Rodriguez
.
2010-11 Sponsors
Leiter Family Foundation,
James H. Woods Foundation,
Jennifer Woods Tierney,
Susee Smith-Youngs
Darren Sage,
Janet Susan Fairbanks,
Lori Oliver, Terez Maniatis, and
SEMARNAT/CONANP
for your Donations and Support
.
Thank you:
Ocean Foundation and
Animal Refuge Sanctuary
for acting as our fiscal sponsors